CONNECT OVER COFFEE
Coffee is more than a morning jolt. If grown, roasted, and brewed correctly, it can be an eye-opening experience in more ways than one. At Station, we hope to introduce our community to the whole flavour palette that this magical bean has to offer.
The roasters we work with are laser-focused on flavour and keeping things fair and sustainable. We work with a number of companies so you can always find something that sparks your curiosity.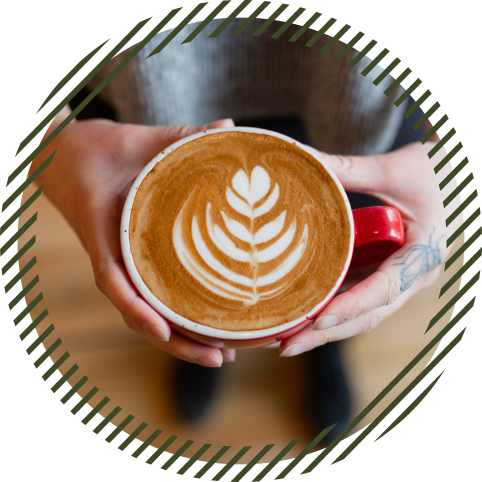 Also based in Vancouver, 49th Parallel rewards growing techniques that sustain eco-systems and support communities. They use cutting-edge science and technology in their roastery to bring out the best flavours of every bean. Agro roasts organic coffee in Vancouver, BC. They buy ethically and sustainably grown beans directly from farms around the world. This allows their Head Roasters to select the highest quality coffee. When Brian Kannekens isn't manning Station's espresso machine, he's often roasting coffee right here in Medicine Hat. As a micro-roaster, Brian sources his beans from wholesalers he trusts, roasts them to his clients' desired flavour profiles, and delivers them to their doors. The Prefontaine family began what is now Fratello Coffee Roasters back in 1974. They roast carefully chosen, ethically sourced coffee in Calgary, AB. Like Agro and 49th, they partner directly with the men and women growing the beans they roast.

Don't be afraid to try something new next time you're in the cafe. We always label our carafs, and we can brew you something special if your eye's caught a particular brand or bean. We also sell our partners' whole beans by the pound for you to enjoy from home.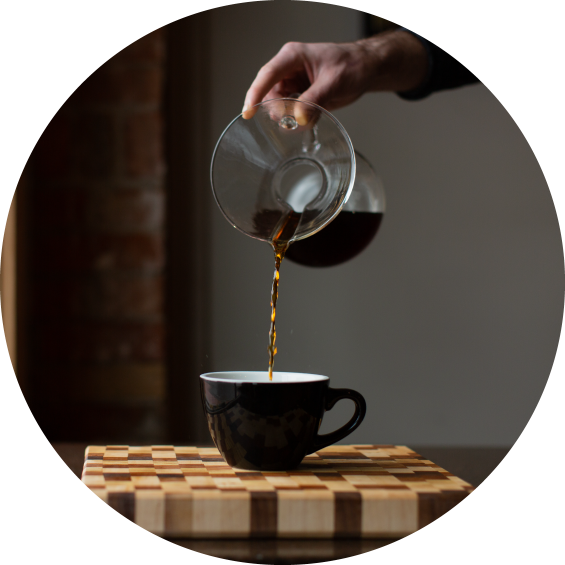 12oz
16oz
Coffee
$2.50
$3.10
Americano
$3.35
$3.85
Latte
$5.35
$6.15
Mocha
$5.70
$6.75
Iced Americano
$3.70
$4.25
Iced Latte
$5.65
$6.55
Iced Mocha
$6.15
$7.25
Nitro Cold Brew Coffee on Tap
$4.60
$5.75
Carbonated Cold Brew Tea on Tap
$4.00
$4.60
Add Syrup
60¢
Non-Dairy Milk
60¢
Lactaide
$1.00
Cappuccino
$4.60 (8oz)
$5.00 (10oz)
Flat White
$5.00 (10oz)
Cortado
$4.50 (6oz)
Espresso
$2.80 (2oz)
Rootbeer Godfather (Cold)
$6.50
Rootbeer Godmother (Hot)
$7.00
Aeropress
$4.60 (12oz)
Chemex
$4.60 (12oz)
Pourover
$4.60 (12oz)
French Press
$7.50 (4 cup)
8oz
12oz
16oz
Tea Fog
–
$5.10
$6.00
*Options: London Fog, Peppermint Fog, African Fog, Chai Fog
Chai Latte
–
$5.20
$6.20
Iced Chai Latte
–
$5.50
$6.50
Matcha Latte
–
$5.20
$6.20
Iced Matcha Latte
–
$5.50
$6.50
*Matcha Latte Options: Green Tea, Peppermint, Rooibos, Tumeric
Steamer
$2.50
$4.40
$5.25
Hot Chocolate
$2.50
$4.40
$5.25
| | | | |
| --- | --- | --- | --- |
| Loose Leaf Tea | $3.25 | Over Ice | $4.00 |
| Grizzly Paw Soda | $3.50 | Juice Box | $1.00 |
| Wicked Rose Kombucha | $5.00 | Bottled Water | $1.25 |
| Snapple Lemonade/Iced Tea | $3.00 | Perrier | $2.80 |